Garmin has introduced the Garmin Bounce, a smartwacth focused on the use for children which is intended to delay the purchase of a smartphone. Among the main features of the Garmin Bounce we find the possibility of communication with text and voice messages, real-time location tracking, shock resistance and a battery life of 2 days. However, it will require a subscription with which Garmin will manage the LTE connectivity of the smartwatch.
Translated with www.DeepL.com/Translator (free version)
Garmin Bounce Specifications
Brand
Garmin
Lens Material
Chemically strengthened glass
Case Size (W x L x H)
42.0 mm x 42.4 mm x 12.6 mm
Strap Size: 115 mm to 180 mm
Display Resolution (Width/Height)
240 x 240 pixels
Weight
37.2 g
Battery Life
Up to 2 days
Water Resistance
5 ATM
Color Display
Yes
Memory/History
7 timed activities, 14 days of activity tracking data
Sensors
GPS
Galileo
Accelerometer
Ambient light sensor
Package Contents
Bounce Charging/Data Cable
Documentation
Main features Garmin Bounce
The Garmin Bounce allows real-time location tracking through the use of GPS, LTE connectivity and the Garmin junior app installed on the parent's smartphone. In addition, with the app you can limit a geographic range with which to receive alerts if the child wanders away.
Also, the Garmin Bounce allows you to send and receive text/voice messages, request assistance from approved contacts, monitor key health elements such as sleep quality and physical activity, and monitor your child's physical activity.
Tracking of physical activity, tasks, games, rewards and Garmin JR
On the one hand, the Garmin Bounce Smartwatch is ideal for children to start learning the importance of a healthy lifestyle, with the completion of assigned tasks and rewards for completing them. From the Garmin Junior app you can assign tasks, homework, monitor physical activity with running, cycling, hiking and swimming profiles, step counter and daily challenges.
On the other hand, children for completing tasks receive virtual coins with which they can unlock agreed rewards such as games, adventures, quizzes, cards with new exercises, among others.
In addition, one of the highlights of this smartwatch together with the Garmin Junior application is the "Active life together" mode with which to connect with friends and families to compete together and thus improve motivation to achieve a healthy lifestyle.
Finally, it also includes features tailored to children such as weather, alarms, stopwatch, reminders and school mode so you do not receive distractions during school hours.
Display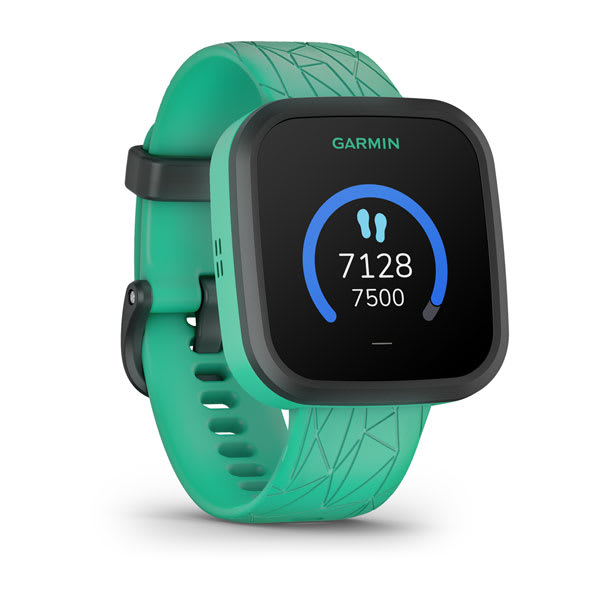 The Garmin Bounce's screen is touchscreen, color, chemically strengthened glass with a resolution of 240 x 240 pixels. Of course, this screen and the materials of the watch are designed to withstand the activity of a child such as playgrounds or swimming.
Battery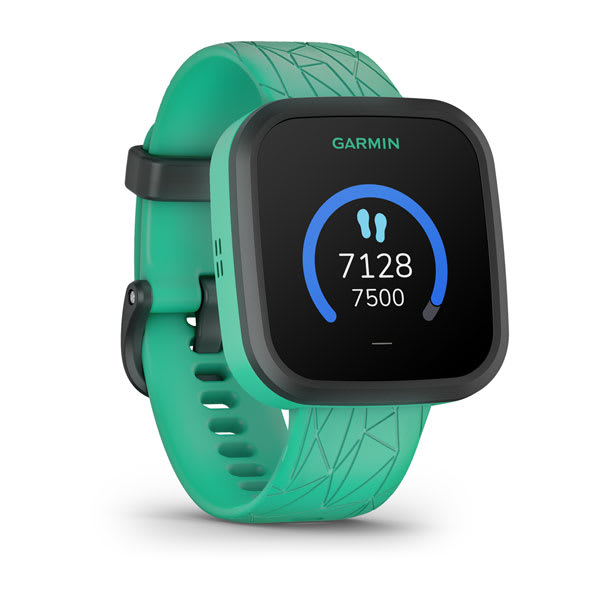 According to the manufacturer, Garmin indicates among the specifications of the Garmin Bounce has a maximum battery life of 2 days. However, the battery life may decrease depending on the quality of the LTE connection, so it is recommended to configure the home Wifi connection among others.
Children's smartwatch subscription plan
To get the most out of Garmin Bounce it will be necessary to activate the subscription that costs 10.99€ for the monthly plan or 109.99€ for the annual plan. This subscription activates an LTE plan managed by Garmin, the ability to send and receive messages, LiveTrack function, function input/output limits, function messages between Bounce smartwatches and the assistance function.
This subscription can be activated from the Garmin Junior application by downloading the APP for Android or iOS on the following link
Conclusion Garmin Bounce
The Garmin Bounce children's smartwatch is the best smartwatch for children to start learning a healthy lifestyle through tasks and rewards, besides knowing the location in real time. In short, we will be able to monitor physical activity, real-time location, assign tasks, rewards, contact text/voy messages and maintain challenges with other families. Undoubtedly one of the best children's smartwatches to consider.
As always, we recommend buying from Amazon, as it will offer you a good price and excellent service. In this way, you will receive the product in a very short time and if it does not meet your expectations or has a defect they offer a great after-sales service.