Amazfit is a brand of smartwatches and physical activity tracking devices owned by Huami, an information technology company. The brand has stood out for offering high-quality products at affordable prices and has launched a wide variety of smartwatches and fitness bands worldwide. Amazfit has partnered with numerous sports and fitness brands, and its products are popular among athletes and fitness enthusiasts worldwide.
The new Amazfit smartwatch features a high-resolution AMOLED display, reduced dimensions and weight, and a long-lasting battery. Additionally, it has a wide variety of sensors to monitor health and physical performance, as well as Wi-Fi and Bluetooth connectivity. Priced at 199 euros, this smartwatch offers excellent value for those interested in having a physical activity and health tracking device.
Amazfit GTR4 Specifications
Weight
34g
Water Resistance
5 ATM
Display
1.43″ Amoled 466×466
Wrist Strap Type
Fluoroelastomer / Quick Release Detachable Nylon Leather
Sensors
BioTrackerTM 4.0 PPG Biometric Sensor
Acceleration Sensor
Gyroscope Sensor
Geomagnetic Sensor
Barometric Altimeter
Ambient Light Sensor
Dual-Band GPS and 6 Satellite Positioning
Wireless Connectivity
2.4GHz WLAN
Bluetooth 5.0 BLE
Battery
475mAh
14 days of normal use
Android/iOS APP
Zepp App
System Requirements
Android 7.0 or iOS 12.0 and above
Package Contents
Smartwatch (Standard Strap Included), Magnetic Charging Cable, User Manual
Amazfit GTR4 Sport Features
The new smartwatch has a total of 154 sport modes, making it an ideal tool for those looking to track their physical activity and improve their health. Among its sports features, it includes automatic detection of 25 strength training movements and 8 sport movements, as well as the creation of interval workouts through the watch. It also has an advanced running tracking mode with trajectory correction and a virtual pacemaker. In addition, it offers an assessment of your training status and a heart rate rating system.
On the health side, the smartwatch offers 24-hour tracking of heart rate, blood oxygen saturation, stress level and sleep quality. It also allows manual measurement of these parameters and has a health assessment system and a breathing exercise tool. In addition, it includes menstrual cycle tracking and health reminders.
Below is the detail of sports it can detect:
Running and walking, Outdoor running, Treadmill, Walking, Trail running, Indoor walking,
Running, Track running, Cycling, Outdoor cycling, Indoor cycling, Mountain biking, BMX, Swimming, Pool swimming, Open water swimming, Swimming with fins, Artistic swimming, Outdoor exercise, Climbing, Hiking, Orienteering, Climbing, Fishing, Hunting, Skateboarding, Roller skating, Parkour, ATV, ATV, Off-road motorcycle
Indoor sports

Elliptical, Rowing, Climber, Stepper, Spinning, Indoor fitness, Mixed aerobics, Cross-training, Aerobics, Group calisthenics, Body combat, Strength training, Step training, Core training, Flexibility training, Free training, HIIT, Yoga, Pilates, Gymnastics, Horizontal barre, Parallel bars, Combat ropes, Stretching, Dance, Square dance, Ballroom dancing, Belly dancing, Ballet, Street dance, Zumba, Latin dance, Jazz dance, Hip-hop dance, Pole dance, Break dance,
Folk dance, Dance, Modern dance, Disco, Tap dance.
Combat sports
Boxing, Wrestling, Martial arts, Tai Chi, Muay Thai, Judo, Taekwondo, Karate, Kickboxing, Fencing, Jiu-Jitsu, Kendo.
Ball sports
Soccer, Beach Soccer, Basketball, Volleyball, Beach Volleyball, Baseball, Softball, Rugby, Hockey, Table Tennis, Badminton, Tennis, Squash, Gateball, Cricket, Handball, Bowling, Polo, Racquetball, Billiards, Sepak takraw, Dodgeball, Water Polo, Ice Hockey, Shuttlecock, Futsal, Footbag, Bocce ball, Pelota, Floorball, Golf swing.
Water sports
Outdoor sailing, Sailing, Kayaking, Rowing, Dragon boat, Paddleboard, Indoor surfing, Tubing, Water skiing, Snorkeling.
Winter sports
Skiing, Snowboarding, Alpine skiing, Cross-country skiing, Ski orienteering, Biathlon, Outdoor skating, Indoor skating, Curling, Bobsleigh and luge, Sledding, Snowmobiling, Snowshoeing.
Leisure sports
Hula hooping, Frisbee, Darts, Kite flying, Tug-of-war, Jianzi kicking, Esports, Air walker, Swing, Shuffleboard, Foosball, Motion sensor game, Board and card games, Chess, Checkers, Go, Bridge, Board game.
Others
Jumping rope, Archery, Horseback riding, Driving, Stair climbing
Display
The Amazfit GTR 4's display is of the AMOLED type and has a size of 1.43 inches. Its resolution is 466 x 466 pixels, which equates to a pixel density of 326 ppi. The display has an anti-fingerprint coating and anti-reflective technology on the glass cover. In addition, it has more than 200 screen designs available for you to choose from.
Battery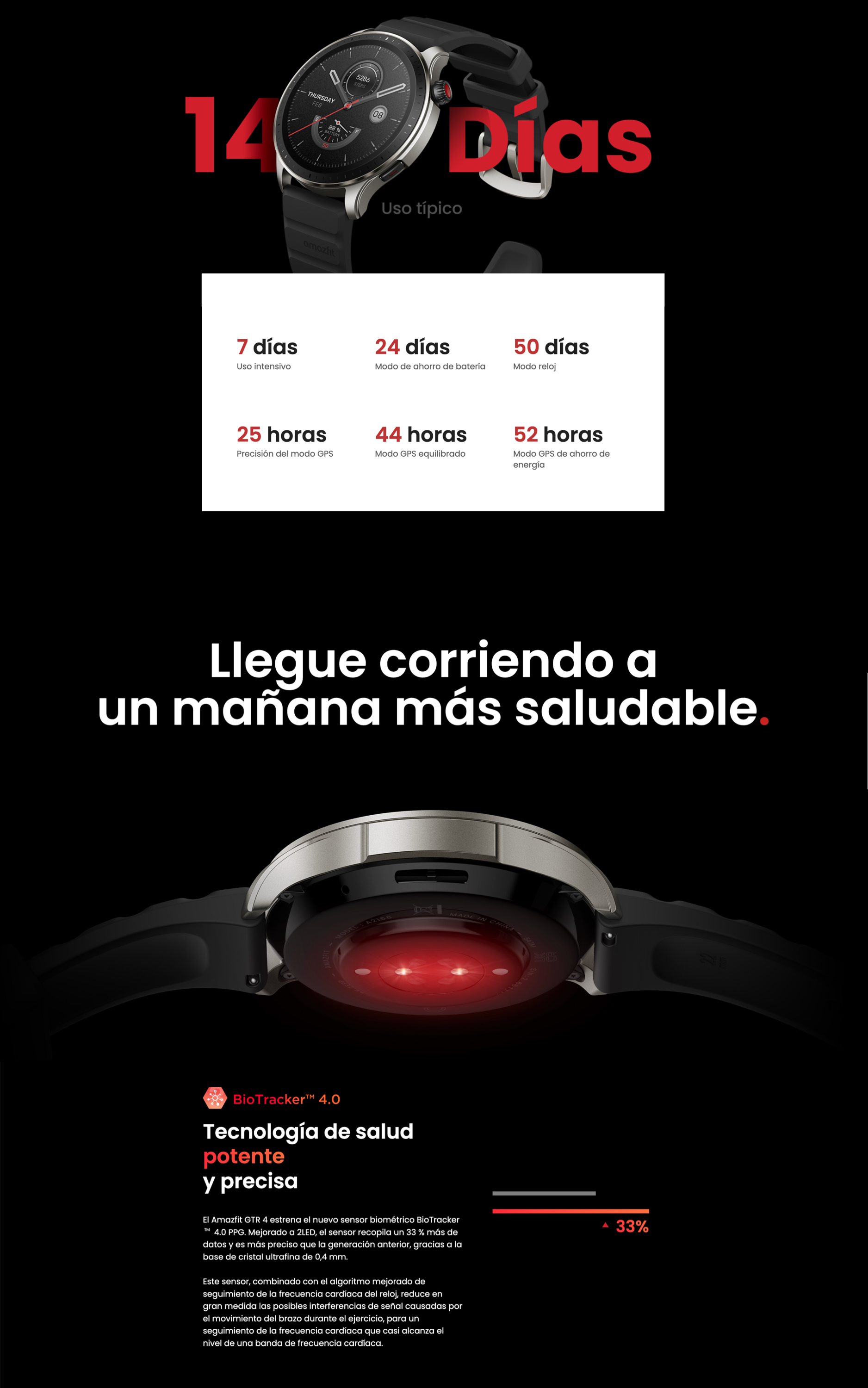 The Amazfit GTR 4 features a 475 mAh battery that offers a battery life of up to 14 days in typical use. In addition, it has a battery saver mode that allows you to continue using certain features, such as sport modes and health metrics, while saving power. Actual battery life may vary depending on settings, usage conditions and other factors. With the battery saving mode activated, only certain functions will be available, such as manual heart rate, blood oxygen saturation and stress measurement, and the use of sport modes, among others. Health monitors such as heart rate and blood oxygen saturation will be disabled, and only basic sleep tracking will be enabled. Bluetooth connection will be limited to BLE and GPS will be disabled.
Sleep monitoring
The Amazfit GTR 4 features a BioTracker™ 4.0 sensor that enables accurate monitoring of sleep quality. This sensor can detect the different stages of sleep, including REM, as well as daytime naps and sleep schedule. In addition, it can measure the quality of breathing during sleep and calculate a sleep score. Sleep quality monitoring can be performed throughout the day, allowing you to get a complete picture of your sleep habits.
Heart rate monitoring
The Amazfit GTR 4 features a next-generation BioTracker™ 4.0 PPG sensor that enables accurate 24-hour heart rate monitoring. This sensor features 2LEDs and collects 33% more data than the previous generation, thanks to its 0.4mm ultra-thin glass base. In addition, the watch's heart rate tracking algorithm has been improved, significantly reducing signal interference caused by arm movement during exercise. This achieves heart rate tracking that almost reaches the level of heart belts. Monitoring includes heart rate, blood oxygen saturation and stress level, and the watch can also detect breathing rate and quickly measure these four important health parameters with a single touch. In addition, it can provide reminders for abnormally high or low heart rates.
App for Android and iOS
To control the Amazfit GT4, the manufacturer provides us with the Zen APP application with which we can configure functions, search for our watch, create alarms, install dials, update and use the Amazfit GT4 functions. Also, we will be able to see a summary of the goals, our sleep, heart rate and workouts performed, among other options.
Conclusion Amazfit GT4
In short, the Amazfit GTR 4 is a powerful and accurate smartwatch that offers precise GPS tracking and navigation. Its design is specifically designed for sports use and features a one-piece metal frame and a stainless steel navigation crown. The 1.43-inch AMOLED display is clear and has over 200 available designs to choose from. In addition, the watch has built-in Alexa and can store membership cards, so it can also be an excellent choice as a personal assistant.
Undoubtedly, if we are looking for a high-end smartwatch with extensive sports functionalities and health tracking, this one is a good buying choice
As always, we recommend buying from Amazon, as it will offer you a good price and excellent service. In this way, you will receive the product in a very short time and if it does not meet your expectations or has a defect they offer a great after-sales service.