Garmin is one of the leading brands in the wearable market, and its smartwatches are known for their quality, accuracy, and durability. In this article, we'll take a closer look at Garmin's latest model and analyze its features and strengths. The Garmin Forerunner 265 is designed for athletes and people who enjoy sports, so we'll see how it performs in tracking physical activity, monitoring heart rate, tracking sleep, and more. Additionally, we'll explore its design and build quality. Join us to discover what makes Garmin's smartwatch one of the most compelling options in the market.
Garmin Forerunner 265 Specifications
| Physical and Performance Features | |
| --- | --- |
| Lens material | Corning® Gorilla® Glass 3 |
| Bezel material | Fiber-reinforced polymer |
| Quick release straps | Yes (22 mm, industry standard) |
| Strap material | Silicone |
| Case size (W x L x H) | 46.1 x 46.1 x 12.9 (mm) |
| Fits wrists with a circumference of | 135-205 mm |
| Display size (width/height) | 32.5 mm (1.3″) diameter |
| Display resolution (width/height) | 416 x 416 pixels |
| Display type | AMOLED; optional always-on mode |
| Weight | 46 g |
| Water resistance | Swim, 5 ATM |
| Battery life | |
| Smartwatch mode | Up to 13 days |
| GPS only mode | Up to 20 hours |
| SatIQ GPS mode (automatic selection) | Up to 16 hours |
| All systems and multiband GPS mode | Up to 14 hours |
| GPS only mode with music | Up to 7 hours |
| SatIQ GPS mode (automatic selection) with music | Up to 6.5 hours |
| All systems and multiband GPS mode with music | Up to 6 hours |
| Charging method | Garmin exclusive charger plug |
| Memory/history | 8 GB |
| Time/date | Yes |
| Abnormal heart rate alerts | Yes (high and low) |
| Blood oxygen saturation via pulse oximeter | Yes (spot checks and optional all-day and rest-based acclimation) |
| Sleep | Yes (advanced) |
Main features of Garmin Forerunner 265.
The Garmin Forerunner 265 is a sports watch that offers a wide range of features for tracking and improving athletic performance. Its main features include a wrist-based heart rate monitor, built-in GPS, daily activity tracking, and compatibility with the Garmin Connect app, which allows for analysis and sharing of training data. Additionally, it has smart notifications, music control, and a battery life of up to 9 days in watch mode and 11 hours in GPS mode. All of this, in a lightweight and water-resistant design, make it an ideal choice for athletes of all types.
Sports Functions of Garmin Forerunner 265
The Garmin Forerunner 265 is a sports watch designed to offer a wide variety of functions for athletes of all levels. One of its main features is the ability to track sports activities such as running, cycling, swimming, and golf. Additionally, it has a wrist-based heart rate monitor, which allows athletes to measure their heart rate in real-time without the need for a chest strap. The watch can also track sleep, monitor steps, and provide activity notifications to keep users motivated throughout the day. In summary, the Garmin Forerunner 265 is a comprehensive sports watch that offers multiple functions to enhance the training experience and help athletes achieve their goals.
Display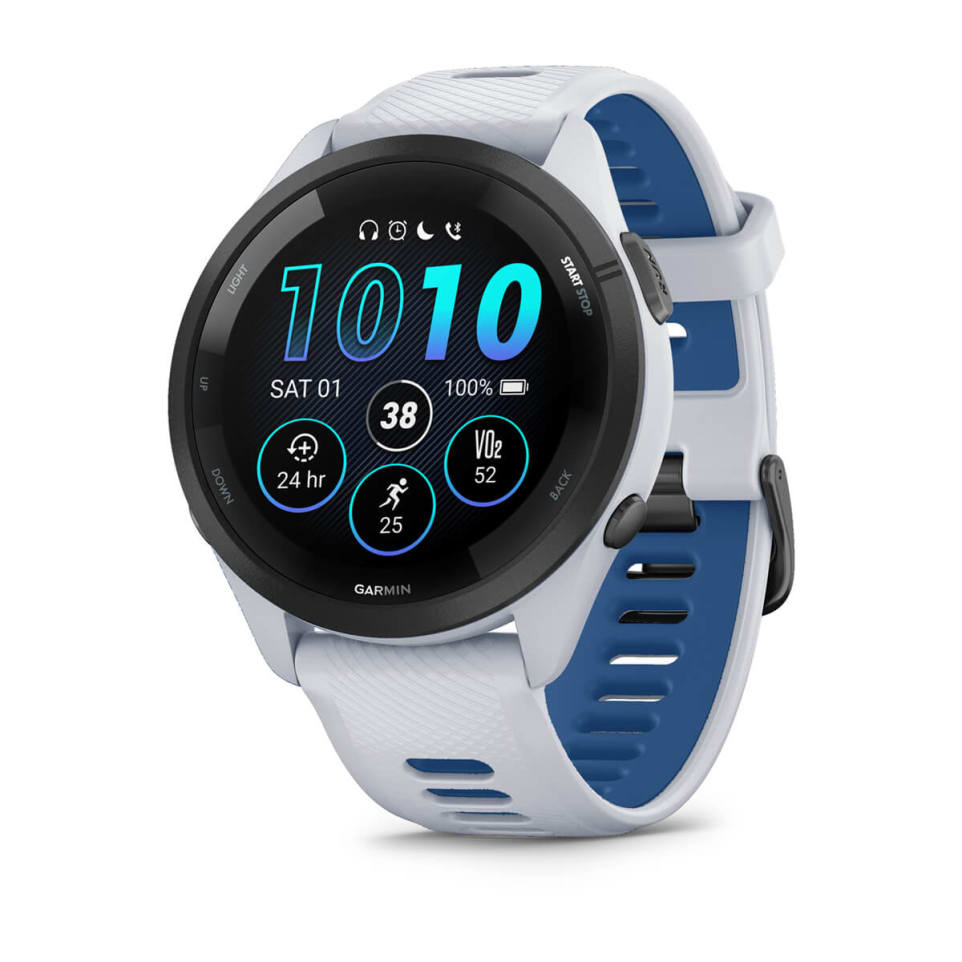 The Garmin Forerunner 265 screen is a fundamental element of this sports device. It has a 1.3″ high-resolution color Amoled screen that is easy to read and shows important information during your workouts, such as time, distance, speed, and heart rate, among other things. In addition, the screen is resistant and durable, making it ideal for outdoor activities and high-impact sports. The touchscreen allows for easy navigation between different functions and settings, making the use of the watch very intuitive and comfortable for the user. In short, the Garmin Forerunner 265 screen is one of the most outstanding features of this high-quality sports device.
Battery
The battery of the Garmin Forerunner 265 is highly efficient and offers excellent durability. The rechargeable lithium-ion battery provides up to 12 hours of GPS mode and up to 9 days of watch mode. In addition, it has a power-saving function that extends battery life up to 12 weeks in watch and activity mode. The watch also has a battery display that shows the status and remaining duration in real-time. It is also easy to charge thanks to the USB cable included in the box that connects to the back of the watch. Overall, the battery of the Garmin Forerunner 265 is one of its main strengths, offering great autonomy and easy and convenient use.
Music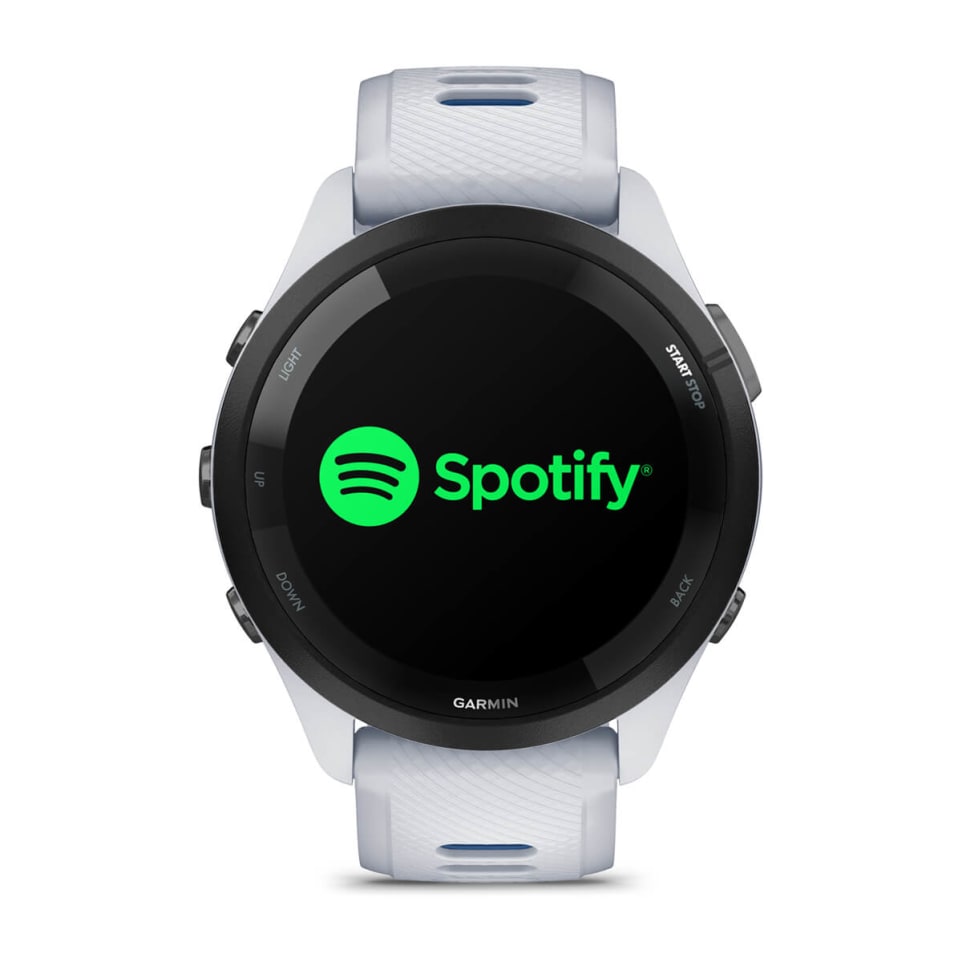 Garmin Forerunner 265 allows you to take your music with you while you exercise without needing to have your phone nearby. You can download songs and playlists from your Spotify accounts directly to your watch and play them with a Bluetooth headset. You can also control music playback from your watch. This means that you can listen to your favorite songs without worrying about carrying a phone or music player with you while you run, swim, or ride a bike. Additionally, the music storage feature allows you to change songs on your playlist so that you always have a fresh selection of music for your workouts.
Extra motivation with the Garmin Connect community
One of the best ways to stay motivated over time is to be part of a social network where you can share your progress, challenge other athletes. Furthermore, this app is free and can be downloaded for Windows, Android, and iOS.
Garmin Pay for Garmin Forerunner 265
The Garmin Forerunner 265 smartwatch includes Garmin Pay, which allows you to make purchases with the watch. In fact, you can now leave your wallet at home without giving up that well-deserved coffee after your run. You just need to tap the watch to pay. However, this functionality is only available at merchants that accept contactless payments, but nowadays most businesses do.
Compatibility with various GNSS systems.
The Garmin Forerunner 265 has a great capacity for compatibility with various global satellite navigation systems (GNSS), which means that it is capable of receiving signals from multiple satellites to provide enhanced accuracy in location and activity tracking. In addition to GPS and GLONASS systems, the Forerunner 265 is also compatible with the Galileo satellite navigation system, which allows for greater accuracy in location and tracking in dense urban environments. This ability for compatibility with multiple GNSS systems makes the Forerunner 265 an ideal tool for athletes and fitness enthusiasts looking for a reliable and accurate sports watch.
Functions of tracking and safety
The Garmin Forerunner 265 has various tracking and safety features that make it an ideal device for those who engage in outdoor activities. Among them is LiveTrack, which allows you to share your real-time location with friends and family through a smartphone connection. Additionally, it has an incident detector that sends an alert with the location to emergency contacts in the event of a fall detection. It also has an assistance function, which allows you to send a help message to emergency contacts with just the push of a button. In summary, these features provide greater peace of mind and safety to the user during their sports or adventure activities.
Pulse oximeter on the Garmin Forerunner 265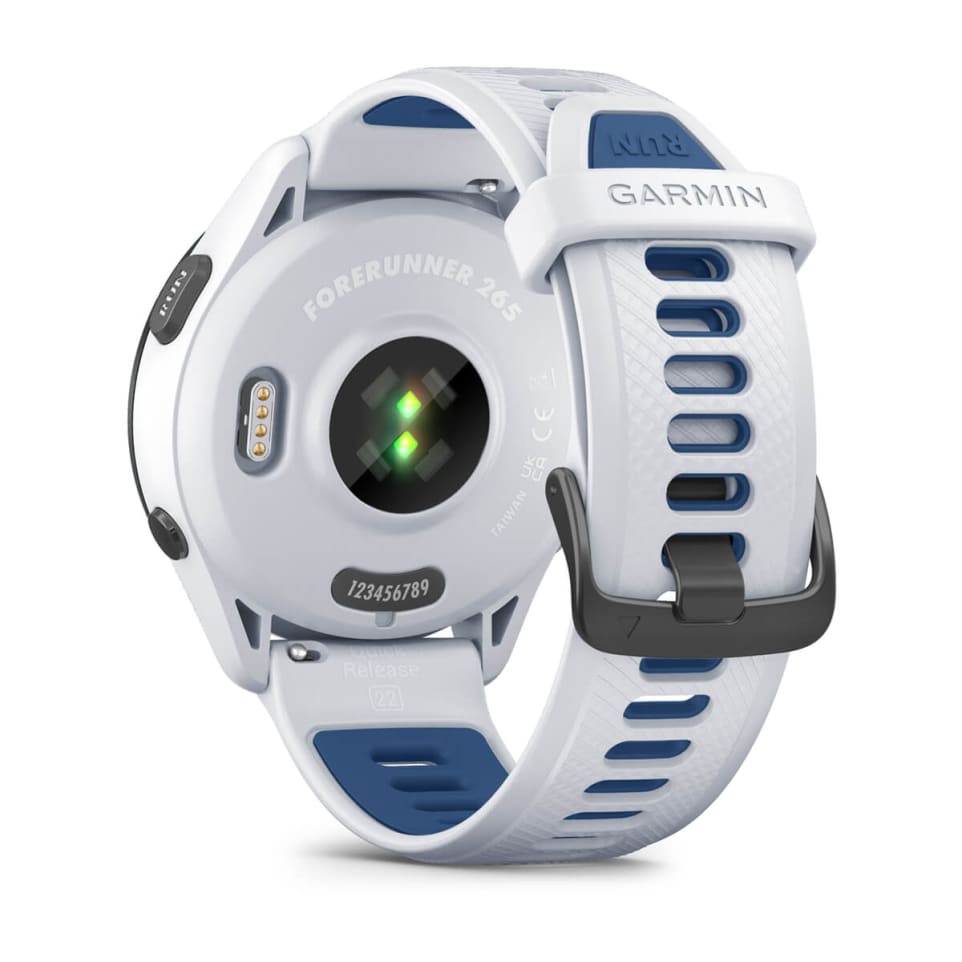 Garmin Forerunner 265 is equipped with a pulse oximeter, a useful tool for those who want to monitor their blood oxygen saturation. Oxygen saturation is important because it indicates the amount of oxygen being transported by the blood to the body's organs and tissues. Adequate oxygen saturation is essential for the proper functioning of the body, especially during exercise. With the Forerunner 265's pulse oximeter, users can monitor their oxygen saturation at any time and take appropriate action to ensure that their body is functioning optimally.
Conclusion of the Garmin Forerunner 265.
In summary, the Garmin Forerunner 265 is a highly functional and comprehensive sports watch for fitness enthusiasts. With a wide variety of features such as GPS, heart rate monitor, daily activity tracking, and safety functions, this device offers a wealth of data and analysis to improve the quality of your workout and overall health. The color screen, long battery life, and compatibility with various GNSS systems are also highlights that enhance the user experience. Additionally, the device has an attractive and comfortable design for all-day wear. In conclusion, the Garmin Forerunner 265 is an excellent choice for anyone looking for a high-quality and easy-to-use sports watch.
As always, we recommend purchasing from Amazon, as they offer a good price and excellent service. This way, you will receive the product in a very short time, and if it does not meet your expectations or has any defects, they offer great after-sales service.