Amazfit recently introduced the new Amazfit Falcon, the sports watch with advanced features that reminds us of the mythical Garmin watch the Fenix version. In this analysis, we will be able to see the main features of the Amazfit Falcon which are the complete tracking of health and fitness, 150 sports modes, 14 days of battery, water resistance among others, titanium body, military resistance, zepp coach, to make the Amazfit Falcon a complete watch in the entry range.
Amazfit Falcon Specifications
Weight
64g
Water Resistance
20 ATM
Display
Amoled 1.28″ 416×416
Wrist Strap Type
Liquid Silicone
Sensors
BioTrackerTM 3.0 PPG biometric sensor (supports blood oxygen measurement, 6 PD)
Acceleration sensor
Gyroscope sensor
Geomagnetic sensor
Barometric altimeter
Ambient light sensor
Dual-band positioning and 6 satellites
Wireless Connectivity
WLAN 2.4 GHz
Bluetooth 5.0 BLE
Buttons
4 (Select/Back/Up/Down)
Battery
500 mAh
Battery life with intensive use: 7 days
Android/iOS APP
Zepp App
System Requirements
Android 7.0 or iOS 12.0 and above
Package Contents
Smartwatch (standard strap included), 5-pin plug charger, instruction manual
Amazfit Falcon Sport Features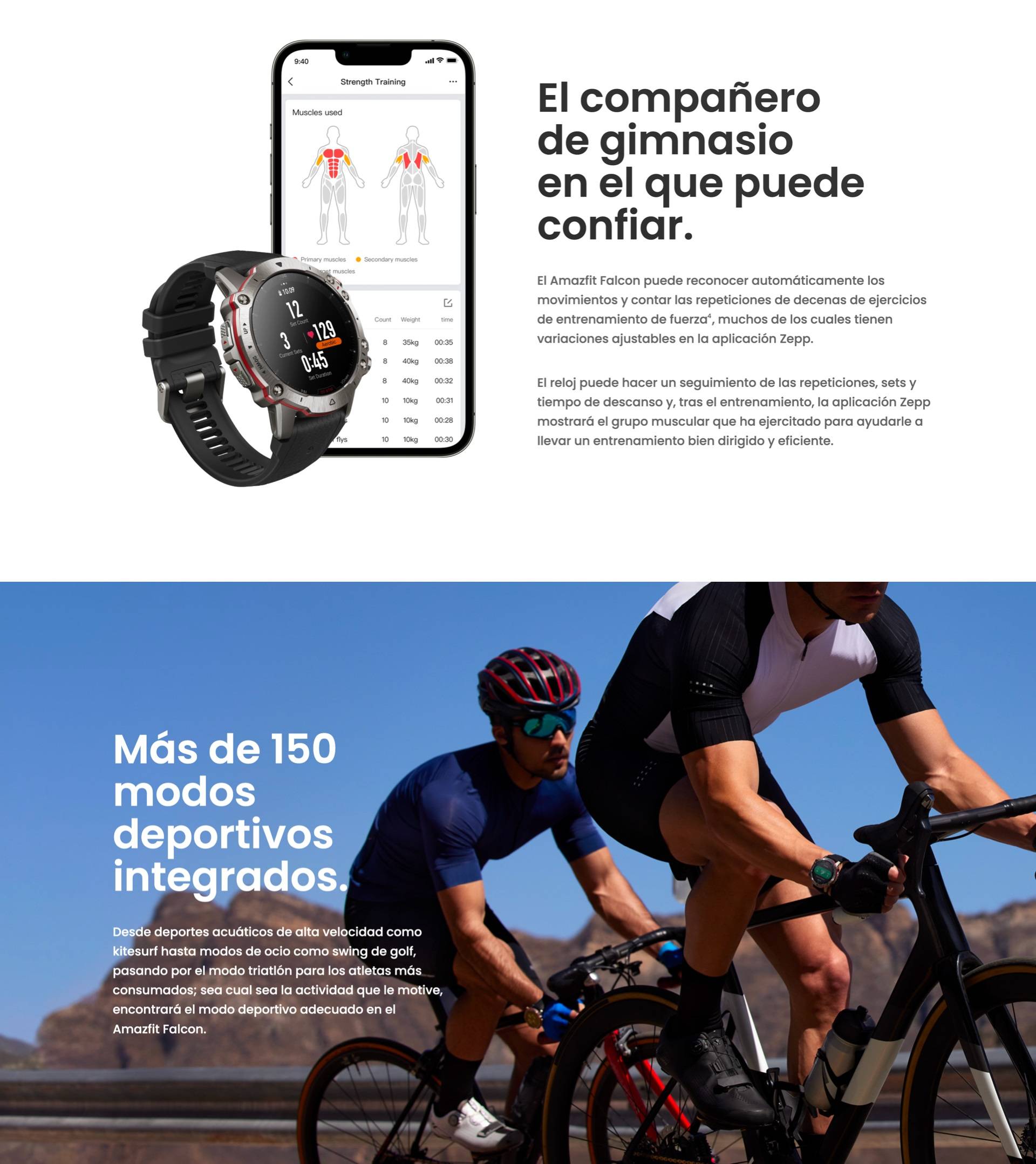 We can say that the Amazfit Falcon stands out for having a large list of sports to which it can correctly track. Of which the following disciplines stand out for having a precise control: outdoor running, indoor walking, hiking, elliptical, treadmill, cycling, rowing and swimming pool.
In addition, all the data collected in the different sports disciplines that it is capable of analyzing can be visualized in the Zepp App application that we will see below.
It also includes a virtual Zen Coach with AI that offers tailored guidance to help you train and recover from a scientific point of view. Among the strengths of Zen Coach is that it detects the level of fatigue to seek a balanced performance and is able to detect a state of overtraining and thus reduce the training load or recommend a rest day.
Display
The Amazfit Falcon has a 1.28-inch Amoled display with a resolution of 416*416 and 326 dpi, with four buttons to scroll through the menus. In addition, in this, we can display a multitude of information, such as call notifications, messages and health status..
Battery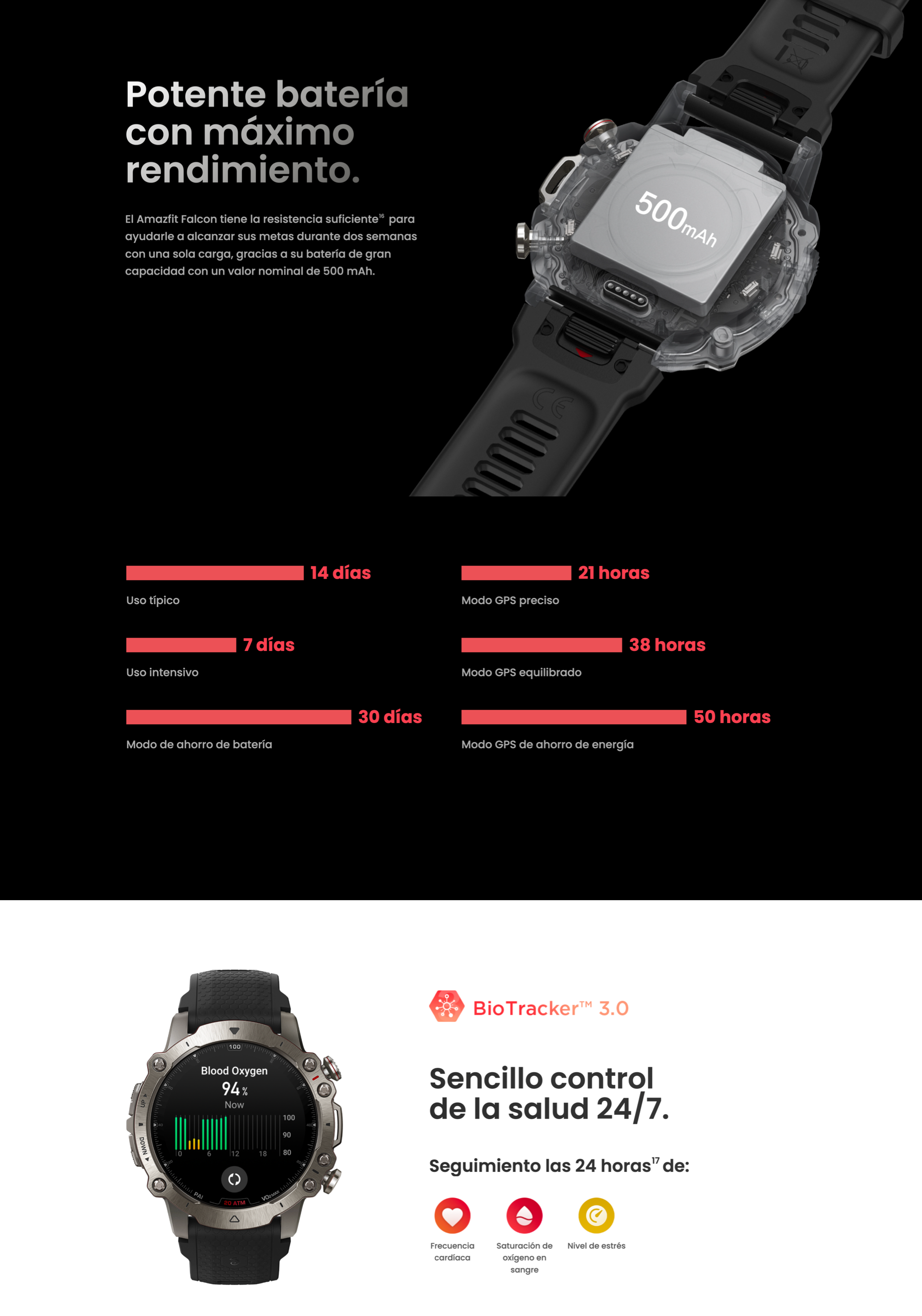 The Amazfit Falcon includes a 500 mAh battery and according to Amazfit promises a battery life of up to 7 days in heavy use or 30 days in power saving.
Sleep monitoring
In the sleep section, the Amazfit Falcon among its features is able to track our sleep detecting light, deep and REM sleep, daytime naps, breathing quality, allowing professional interpretation of sleep patterns and will allow you to pick up better habits to improve the health of your body. In addition, it detects when we take a nap to provide more data to our sleep analysis.
Heart rate monitoring
The new Amazfit Falcon smartwatch includes a 3.0 BioTracker PPG sensor, which can constantly and very accurately monitor 24-hour heart rate, stress level as well as heart rate interval during workouts, and warns if too high value is detected. However, in this case it does not include blood oxygen measurement.
App for Android and iOS
To control the Amazfit Falcon, the manufacturer provides us with the Zen APP application with which we can configure functions, search for our watch, create alarms, install dials, update and use the Amazfit Falcon functions. Also, we will be able to see a summary of the goals, our sleep, heart rate and workouts performed, among other options.
Conclusion Amazfit Falcon
As we have seen in this Amazfit Falcon review, this is a high-end smartwatch that stands out for its military design. Among the main features, we have physical activity tracking, sleep monitoring, zeep coach, premium materials and heart rate or phone notifications.
Undoubtedly, if we are looking for a high-end smartwatch with extensive sports functionalities and health monitoring, this is a good purchase option.
As always, we recommend buying from Amazon, as it will offer you a good price and excellent service. In this way, you will receive the product in a very short time and if it does not meet your expectations or has a defect they offer a great after-sales service.